Wow, guys... what a vacation. And you know you've had a great one when you don't even mind coming home because you're sooo exhausted.
I promise in the next few days to post some pictures, especially one of me being chummy with a certain adorable mouse. But I do believe I have a promise to keep!
Many of you know about my Where in the World is Marie Hall 7 day trivia game. I cannot believe how many of you figured out that scrambled word. I would have been hopeless, but I'm impressed and a little bit in awe of my readers. ;)
So I promise once I'm done trying to settle back in there will be stories. Such as my one celebrity sighting, the gag inducing life vest we were forced to wear on Bass lake that smelled so rotten it caused a certain member of my family to literally pass out into the lake. A little thing my oldest child dubbed penni gate...lol. Great memories though, all of them. :)
For now though I have a winner to announce. Unbelievably there was only one person who answered each question correctly and answered from question 1 to question 7. That person is........
JESSICA BOLDUC!! Congrats. Below is a picture of the actual sterling silver mickey bracelet. I think it's just gorgeous, and I managed to refrain from wearing it. Barely. :p
So now all I need from you Jessica is to please contact me at
mariehallwrites
@gmail.com
and send me the address you'd like this bracelet shipped off to. :)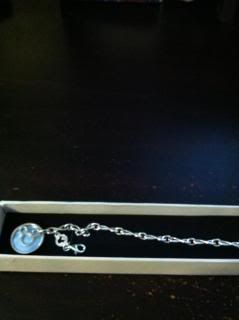 Thank you to everyone else who participated and played along with my silly, little game!
Happy reading,
~Marie