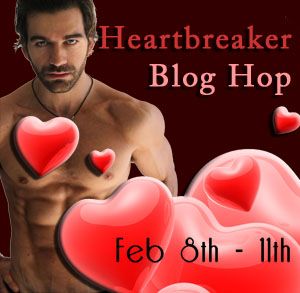 Are our heroes heartthrobs or heartbreakers? Or are they just the same thing? Yummy right? Valentine's Day is just around the corner for this blog hop and we're gearing up to see what exactly is a heartbreaker. Is the song playing in your head line mine? "Cuz he's a heartbreaker!" We love those sexy men, but what about those times in the story when they aren't perfect. Because come on, we know they aren't perfect. What makes those men heartbreakers? What can those guys do to make it better? Is there a way to grovel? Come on! Tell me about your heartbreaker!!
I'll tell you about mine. I love the guy that all girls want but he only has eyes for one. I LOVE those guys. Seriously, nothing sexier than a man who knows what he's got at home. Plus, if they're just a little bit naughty, well they're even better. ;)
I know for me, my husband has been much of the inspiration for my books. He was that bad boy mom's always warned their precious daughters about and I was the little angel. Or so people thought. And though we're completely opposite, I love him and he me. That's what I write about, men that are forbidden. That we shouldn't want, but can't help needing.
So what does it for you. And who do you think is the sexiest man in books.
I may not have written him, but hands down one of the best and yet somewhat disturbing for me is Jericho. And if I have to explain to you who he is, you NEED to pick up KMM's fever series.
So tell me, and then tell others...
Almost 300 bloggers have giveaways and posts about those men we love!

We have THREE grand prizes. You as a reader can go to EACH blog and comment with your email address and be entered to win. Yep, you can enter over 200 times!
Now what are those prizes?
1st Grand Prize: A Kindle Fire or Nook Tablet
2nd Grand Prize: A $100 Amazon or B&N Gift Card